As you've probably noticed by now, I'm more of a baker than a chef! :) But ask anyone who knows me well what my favorite food is and they'll all give you the same answer: mac & cheese!! It's been my favorite since I was a little girl and it's still my favorite indulgence at age 26, so it was necessary for me to find an awesome mac & cheese recipe that I could make my own.
This recipe is my absolute go-to for mac & cheese and was adapted from the amazing
Barefoot Contessa
. The smoked gruyere was my addition and gives it a really interesting flavor, almost like it has bacon in it, but it's meat free! Note: you will need 3 open burners on the stove top in order to make this recipe, so it does require a bit of multitasking! By the second time you make it, you'll have it down pat, but I found myself scrambling a bit the first time I made it as I'm much more comfortable using a stand mixer and the oven. :)
Baked Macaroni & Cheese
recipe adapted from
Barefoot Contessa
serves 6-8 people
Ingredients...
Salt and olive oil for boiling water

1 pound cavatappi (the swirly ones)

1 quart milk

1 stick unsalted butter, divided

1/2 cup all-purpose flour

8 ounces smoked Gruyere, grated (4 cups)

8 ounces extra-sharp Cheddar, grated (2 cups)

1 tablespoon salt

1/2 teaspoon freshly ground black pepper

1/2 teaspoon ground nutmeg

1 1/2 cups bread crumbs
Directions...
Preheat the oven to 375 degrees F.

Bring water, olive oil and a bit of salt to a boil in a large pot. Once boiling, add the cavatappi and cook according to the directions on the package (usually 6 to 8 minutes.) Drain well.

While the water is boiling in the large pot, heat the milk in a small saucepan, but don't boil it.

Melt 6 tablespoons of butter in a large 4-quart pot and add the flour. Cook over low heat for 2 minutes, stirring with a whisk. While whisking, add the hot milk from the saucepan and cook for a minute or two more until thick and smooth.

Off the heat, add the Gruyere, Cheddar, 1 tablespoon salt, pepper, and nutmeg to the pot. Add the cooked cavatappi and stir well. Pour into a 3-quart baking dish. Resist eating it at this point even though it looks delicious - you still need to bake it!

Melt the remaining 2 tablespoons of butter in the microwave and combine with the bread crumbs. Sprinkle the mixture on top of the cheesey macaroni.

Bake for 30 to 35 minutes, or until the sauce is bubbly and the macaroni is browned on the top.

Serve and enjoy!!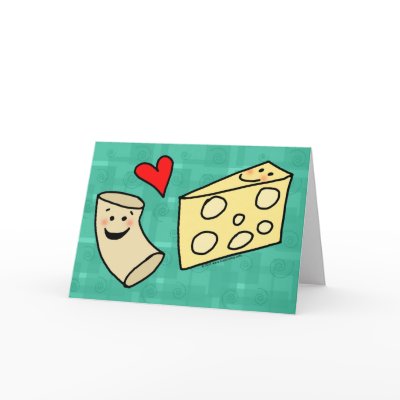 buy this greeting card here!