It's no secret to anyone that I'm kind of obsessed with beauty products. I am very particular about what I use on my face and body. I use mostly high-end products for my face, but some of my other beauty staples can be found in the drugstore! Here are my favorites - maybe you'll fall in love with them like I have!
Face Wash:
SkinCeuticals Simply Clean
- $32. I have really sensitive skin and am prone to cystic acne if I don't use the right products. I've tried every face wash under the sun and this is the only one that keeps those painful cysts that can leave big scars on my face away. Yes, it's more expensive than what you can buy at CVS, but it's worth every penny to me - you can't undo the damage left behind from cystic acne scars.
Toner:
Dr. Hauschka Facial Toner
- $35. The price tag is high on this toner, but I can't live without it! My friend
Joia's mum owns a natural beauty store
in Northampton, MA and she turned me on to this toner when I was in college. It's refreshing, moisturizing and feels so good when you spray it on your skin. I use it before my moisturizer every day.
Fall/Winter Moisturizer:
Korres Wild Rose Moisturizing & Brightening Cream
- $35. A little goes a long way with this gorgeously scented face moisturizer. It brightens your skin and keeps your face moisturized all day long. It has a low SPF, so I only use it during the fall and winter months. It doesn't irritate my sensitive skin.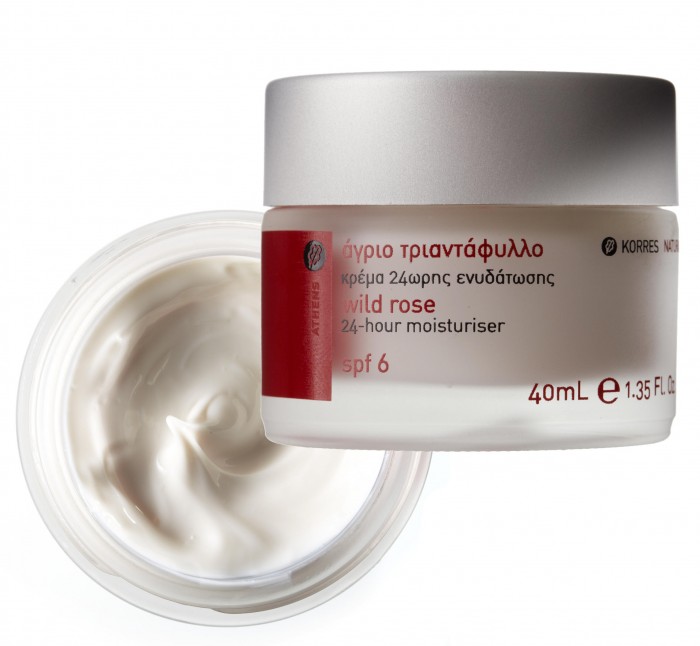 Summer Moisturizer:
Clarins Sun Wrinkle Control Cream SPF 30
- $30. Delicate enough for sensitive skin, this face moisturizer keeps your skin soft and clear while also protecting you from the sun's harmful rays.
Self-Tanner for Face:
Clarins Radiance-Plus Self Tanning Cream-Gel
- $54. This is the highest priced item in my cabinet, but it works SO well and you only need to buy it once a year, so I truly believe that it is TOTALLY worth every penny! It doesn't have a weird self-tanner smell or leave any streaks on your face. It blends in easily, makes your skin so soft, and it does not make you break out! Use it every other day for a natural glow that keeps you from looking pasty all winter.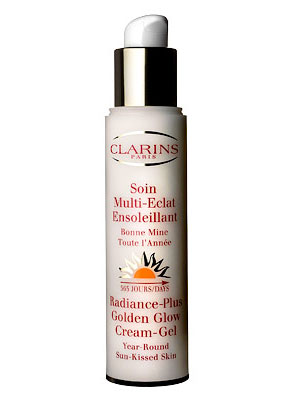 Self-Tanner for Body:
Ocean Potion Everglow Daily Moisturizer
- $10. You should be able to find this lotion at your local Target or Wal-Mart. I love this stuff - it tans your skin gradually without streaks or smears and works better than the Jergens self-tanner. It does smell a little weird to me (as most self-tanners do), but I prefer the smell to any of the other drugstore self-tanners I've tried.
Body Wash:
Softsoap Ultra Rich Shea Butter
- $6. I just can't get enough of this stuff. It's cheap, it smells fantastic and it leaves my skin feeling soft and moisturized after I shower. I've tried tons of expensive body washes but I keep coming back to this one!
Body Lotion:
Palmer's Cocoa Butter
- $5. I swear by this body lotion - nothing else moisturizes my skin quite as well as Cocoa Butter! I use it after my nighttime showers and my skin is still silky smooth when I wake up and throughout the day.
Body Lotion:
Memories of Paris
- $25. This is my absolute favorite scented body lotion out there. I love the light white fleurs smell and it layers perfectly under all of my floral perfumes. A little goes a long way and the scent and softness lasts all day long!
All-Purpose Balm:
Cake Satin Sugar
- $24. You can use this lemon cookie scented balm for just about anything! Use it on your hands, to smooth out your ponytail or to moisturize your dry lips. It contains 86% shea butter which is one of the best moisturizers out there, so you really can't go wrong! Keep it in your purse at all times and you are good to go!